eCommerce Solutions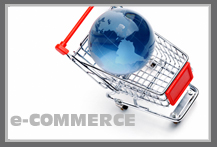 With MicahTek's data integration, now your organization can have a dynamic and interactive website!

MicahTek's eCommerce Solutions bridge the gap between your organization's website and your database information.

Anytime, 24 hours a day, your customers and members are in touch with your organization! Data integration functionality is virtually unlimited:
Online Shopping
Donations
Recurring Donations/Pledges
Event Registration
Order Status and History
Account Transaction History
Tax Receipt Records
Name and Address Changes
Customer Service Requests

Transactions that have required mail or phone processing can now be available through your website. Contact MicahTek today for more information on how we can integrate your organization's website.





800.303.4436
918.449.3300
Fax Number: 918.449.3301