MicahTek Database Management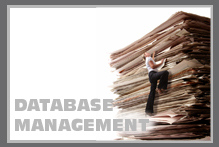 Empowering your organization to make the right choices. Managing your information is our business!
MicahTek professionally manages your customer and member information. Take advantage of MicahTek's years of experience, successfully partnering with many of the leading organizations in America. MicahTek's highly trained senior management staff has committed themselves to the fulfillment of your mission statement. Our management team communicates regularly with you, keeping you informed of all activities relating to your account.
Merging incoming mail, phone calls and Internet transactions into a tightly integrated database system will benefit your organization tremendously. At all times you will know exactly where you're at in the processing and fulfillment of your customer and member accounts. Utilizing MicahTek's secured Internet access you will take advantage of not only being on top of things but provide valuable input in the daily processing of your information.
Managing pledge fund raising programs or magazine and newsletter subscriptions are only a few of the projects professionally managed by MicahTek.
MicahTek's computer Information Systems department is always on call to customize and implement any special request. The data management center features state-of-the-art computer hardware, custom software, and the most powerful operating system available for database management. We understand all organizations are unique and deserve special hands on attention. Be unique! See how MicahTek responds and truly partners with you in your efforts to fulfill your mission.
Data entry and mail processing departments expedite your data input and output processing, transforming a lifeless mailing list into a dynamic active database with an exhaustive transaction history of every contribution, pledge, subscription, and order on file. Through processing and fulfilling each transaction exactly per your instructions we insure not only accuracy but timely expediency in responding to your customers and members.
MicahTek converts your raw data into meaningful information. You then use the following up-to-the-minute, comprehensive management reports to measure the effectiveness of your marketing efforts and make informed decisions.
Our seasoned senior Management teams are always available to consult regularly with your organization in any area of need including some of the following:
Phone center and database management
Computer system configuration and installation
Pledge Fund Raising Management
Subscription Newsletter and Management
Custom programming
Direct mail design, printing, and mailing
Product development, creation, and packaging
Mail processing and order fulfillment
Marketing strategy, execution, and testing
Media (Broadcast) Management (Expense and Revenue)
Equipped and prepared to do whatever it takes to get your job done!