Order Fulfillment & Warehousing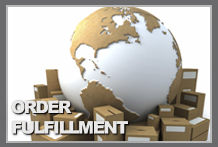 Order Fulfillment Services



MicahTek's product fulfillment division is renowned for accelerated processing and express turnaround.

These are crucial strengths to possess in an economy where customer service and satisfaction are vital for success. Let MicahTek enhance your consumer relations by taking control of all your fulfillment needs.

MicahTek offers virtually all daily fulfillment options. Personalized packing slips, with your logo digitally imprinted, are created daily for expedited completion. Easily accessible order tracking data is provided to precisely trace all orders to facilitate customer service inquiries. MicahTek's newly expanded warehouse ensures that your inventory is on hand ready to be shipped right on time. Every shipping mode is available from the major shipping companies giving you the flexibility you need to meet the specific demand of each order.

Every aspect of fulfilling orders directly reflects on the reputation of your organization. By dealing with a first class agency you can be confident with the customer satisfaction that MicahTek's product fulfillment provides. Our overriding objective is to achieve your complete satisfaction everyday. The ultimate test for any service agency is supplying smooth daily operation, while providing comfort during the crunch times when it matters most. We understand the urgency of your efforts and guarantee the fastest turnaround possible.

What is it going to take for you to offer the services and options MicahTek provides? There is no need to deal with the everyday hassles of product fulfillment when such a practical choice exists. We have spent years implementing every service possible in order to provide a reliable fulfillment solution. When it comes time to move your business to the next level... MicahTek will take you there.